New VOLA spa products
– Sleekly therapeutic, visibly VOLA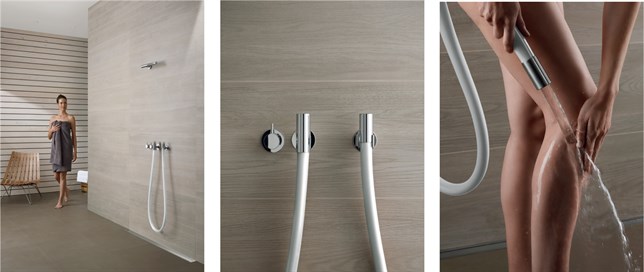 The luxury private bathroom, hotel spa or sauna should be an oasis of tranquility. An escape from worldly matters. A place to rejuvenate the body, and allow the mind to empty and the soul to meditate. Into this environment of total relaxation and wellbeing, VOLA has introduced two new therapeutic products: the Kneipp Hose 070W and the Waterfall Shower 080W. Both reflect the continuity of VOLA classic designs. Both illustrate the innovation for which VOLA is sought after by leading architects and designers across the globe. The Kneipp Hose and Waterfall Shower are designed for use as part of a holistic sauna experience. Both provide soothing flows of cold water to calm the mind and awaken the body.

The Waterfall Shower 080W has been conceived as an essential ingredient in a restorative spa experience. Once the sauna has warmed and relaxed the body, the refreshing effect of the cold shower that follows is of equal importance. Together they create the balance that leads to ultimate relaxation and mindfulness. The Waterfall Shower provides a smooth ribbon of fresh cold water. This gentle but steady cascade helps the bather to cool off rapidly. It invigorates the system and contracts the dilated blood vessels to create a sense of calm and wellbeing.

True to VOLA classic geometric designs the waterfall shower is based on simple, understated cylindrical shapes. Its innovative form creates an asymmetric balance between the inlet cylinder from the wall and the outlet cylinder from which the water flows. Neither is central. The combination is both sophisticated and visually dynamic. Echoing VOLA timeless design principles the Polymer gasket that controls the water flow is drawn back into the aperture, creating a clean edge and focusing the eye on the sleek and rounded forms. The new spa products are designed by Aarhus Arkitekterne.

With the Kneipp hose, VOLA has created an essential element for effective hydrotherapy in a spa environment. The 22 mm hose aperture produces a generous but soft current of cold water that is immediately cooling on the skin. Enveloping the bather like a fresh mountain stream, it soothes the mind and energises the system. For therapeutic effectiveness, the hose is guided from the peripheral parts of the body inwards towards the heart. For example, the flow may be directed onto one leg and then guided laterally upwards to the centre of torso. Kneipp hydrotherapy regulates blood pressure and enhances circulation. It also encourages cell regeneration and strengthens the immune system. To its long history of stylish, innovative and effective designs, VOLA has now added two spa products that exemplify the quality, craftsmanship and consistency for which it is known. Two products to grace any luxury bathroom retreat – where quietness and meditation combine with ultimate physical wellbeing.


High resolution images can be downloaded from our Media library: ►
Press contact:
Birthe Tofting, VOLA A/S
Director of International Sales, Marketing
e-mail: bt@vola.dk
Tel: +45 76284822, +45 23314181