German Design Award 2014
VOLA Round Shower wins German Design Award 2014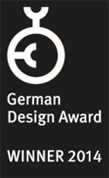 The German Design Award has an excellent public image. This is also down to the reputation of its organizer, the German Design Council, which has been representing and supporting the German design industry with its expertise in all questions relating to design for 60 years now. A nomination for the German Design Award on the occasion of the anniversary of the German Design Council is especially significant – it stands for 60 years of design culture. http://www.german-design-council.de/en/60-years-design-culture.html

This is not the first shower to be designed and manufactured by VOLA.  It is the first ever round-head shower. That's what makes it special. It is a natural extension of the VOLA range. And it means a luxury bathroom can now be totally VOLA, combining chosen elements from the award-winning Round Series.
It clearly belongs to the VOLA range. At VOLA they believe in continuity. The unique products all take their proportions from the classic Arne Jacobsen tap specially designed for VOLA more than 40 years ago. That's why they work together so naturally. The Round Shower is effortlessly elegant. Like all VOLA products, it keeps its technical  parts subtly hidden from view.

But continuity isn't enough at VOLA. They also celebrate innovation. The Round Shower takes the special elements of the VOLA design language as its starting point to create an entirely new product. It plays with existing lines to produce a fresh and aesthetically-pleasing geometrical form. The Round shower is the latest evolution in our highly-acclaimed Round Series which takes the circle - already a key feature of VOLA design - as its focus. Building on this soothing form, its first two products were the round waste bin RS1 and the round paper tissue dispenser RS2 in 2011. Both are discreetly efficient. Both are represented by a pure circle built into the wall.
The environment is important to VOLA and water conservation is seen as only one part of a holistic approach to reducing energy consumption. At VOLA they contribute by manufacturing products that last for generations. To suit all bathing preferences VOLA offers the choice of several different flows. The Round Shower can deliver up to 24 litres or 15 litres of water per minute at 3 bar pressure.

The new round shower can be ceiling - or wall-mounted. It can be finished in chrome - or in brushed stainless steel as well as a variety of different colours.
The VOLA Round Shower is designed by Aarhus Arkitekterne.
Press contact
Birthe Tofting, bt@vola.dk, tel: +45 76284822 or cell: +45 23314181