VOLA Round Series won 4 prizes at the Plus X Award
VOLA Round Series won the award "Best Product of the Year 2011" in its category. Furthermore the VOLA Round Series won the seals of approval in Innovation, Design and Functionality.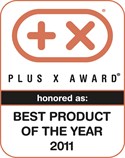 The Plus X Award – prize for innovative Technologies, Sport and Lifestyle products – honors manufacturers for the quality advantage of the products. The jurors are more than 130 renowned, industry neutral personalities and trade journalists. Plus X Award seals of approval are presented in seven different categories – innovation, high quality, design, ease of use, functionality, ergonomics and ecology. Prerequisite for an award is: The product must be of absolutely the highest quality, have a long life cycle, be functional and its design must be leading-edge.
Plus X Award Hall of fame >>